Boys Soccer
Real-Time Daily Schedule Varsity Schedule JV Schedule Coaches
All players interested in trying out should have all their paperwork filled out through the school FamilyID website. Players will not be allowed on the field without being approved by the FamilyID website which includes forms for players and parents to sign and confirmation that the player has a valid, up-to-date physical.
For updated Spartan Soccer news, please follow us on Twitter.
All players should report with proper gear and should bring plenty of water. If you have any questions please contact Coach Parness.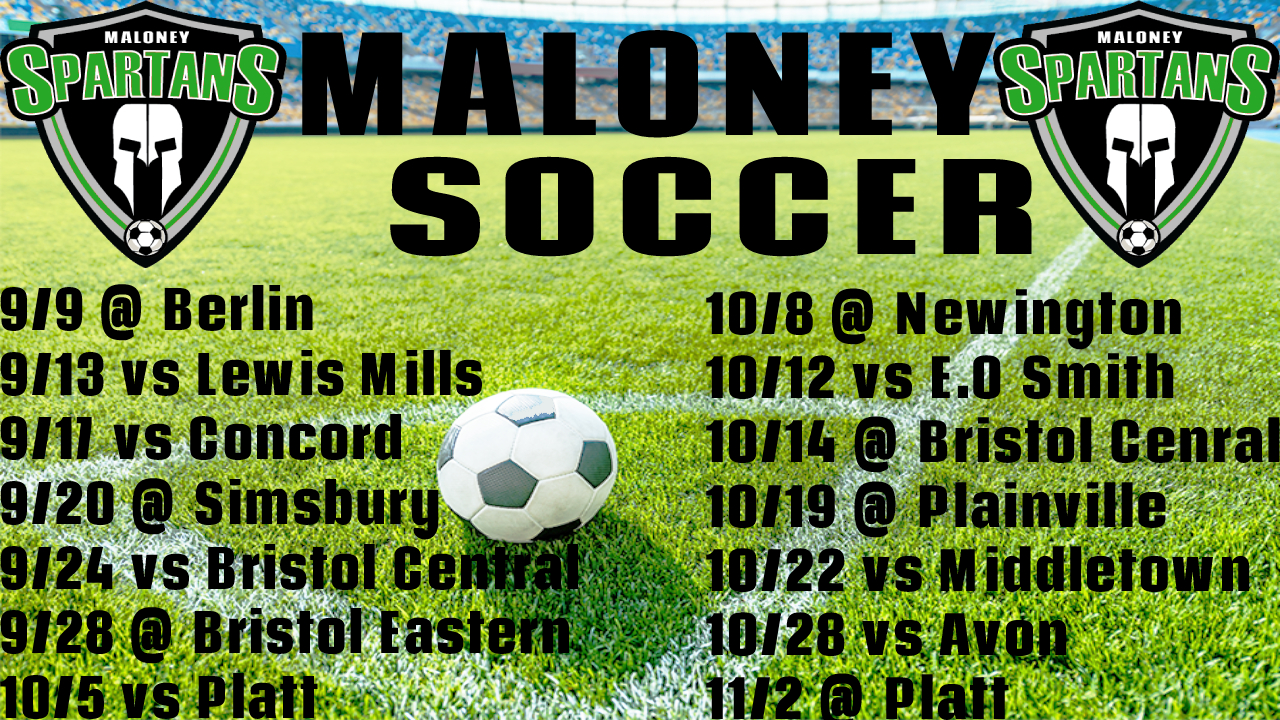 Varsity Schedule
Wethersfield (Scrim.) (V Boys Soccer)

Tue. 8/29, Away - Wethersfield High School-Cottone Field

Berlin, Bacon Academy, Conard, Cromwell, Jonathan Law, Manchester, Rocky Hill, South Windsor (V Boys Soccer)

Sat. 9/2, Away - Sage Park Berlin-Scalise Field

Bristol Eastern (V Boys Soccer)

Tue. 9/12, Away - Bristol Eastern High School-Alumni Field-Turf

Berlin (V Boys Soccer)

Thu. 9/14, Away - Sage Park Berlin-Scalise Field

Bloomfield (V Boys Soccer)

Mon. 9/18, Away - Bloomfield High School-Phil Rubin Stadium- Turf Field & Track

Bristol Central (V Boys Soccer)

Tue. 9/26, Home - Falcon Field (Meriden, CT)-Football Field

Lewis Mills (V Boys Soccer)

Thu. 9/28, Home - Falcon Field (Meriden, CT)-Football Field

East Hampton (V Boys Soccer)

Sat. 9/30, Home - Maloney High School-Turf Field

E.O. Smith (V Boys Soccer)

Mon. 10/2, Home - Falcon Field (Meriden, CT)-Football Field

New Britain (V Boys Soccer)

Thu. 10/5, Home - Falcon Field (Meriden, CT)-Football Field

Valley Regional (V Boys Soccer)

Sat. 10/7, Home - Maloney High School-Turf Field

Platt (V Boys Soccer)

Wed. 10/11, Home - Falcon Field (Meriden, CT)-Football Field

Manchester (V Boys Soccer)

Fri. 10/13, Home - Maloney High School-Turf Field

Middletown (V Boys Soccer)

Mon. 10/16, Home - Falcon Field (Meriden, CT)-Football Field

Plainville (V Boys Soccer)

Thu. 10/19, Away - Plainville High School-Plainville HS- Tinty Field and Track

Northwest Catholic (V Boys Soccer)

Tue. 10/24, Away - Northwest Catholic High School (Primary)-Neil J. Brewer Field

Platt (V Boys Soccer)

Fri. 10/27, Away - Falcon Field (Meriden, CT)-Football Field

Hartford Public (V Boys Soccer)

Mon. 10/30, Away - Hartford Public High School-Soccer Field

Conard (V Boys Soccer)

Tue. 11/7, Away - Conard High School-McKee Stadium
JV Schedule
Wethersfield (Scrim.) (JV Boys Soccer)

Tue. 8/29, Away - Wethersfield High School-DiCicco Field

Hartford Public (JV Boys Soccer)

Fri. 9/8, Away - Hartford Public High School-JV-Field

Bristol Eastern (JV Boys Soccer)

Tue. 9/12, Away - Bristol Eastern High School-Front Field

Berlin (JV Boys Soccer)

Thu. 9/14, Away - Sage Park Berlin-Auxiliary

Bristol Central (JV Boys Soccer)

Tue. 9/26, Home - Maloney High School-Soccer Field

Lewis Mills (JV Boys Soccer)

Thu. 9/28, Home - Maloney High School-Soccer Field

East Hampton (JV Boys Soccer)

Sat. 9/30, Home - Maloney High School-Soccer Field

E.O. Smith (JV Boys Soccer)

Mon. 10/2, Home - Maloney High School-Soccer Field

New Britain (JV Boys Soccer)

Thu. 10/5, Home - Maloney High School-Soccer Field

Platt (JV Boys Soccer)

Wed. 10/11, Home - Maloney High School-Soccer Field

Manchester (JV Boys Soccer)

Fri. 10/13, Home - Maloney High School-Soccer Field

Plainville (JV Boys Soccer)

Thu. 10/19, Away - Plainville High School-Plainville HS- Turf JV Field

Northwest Catholic (JV Boys Soccer)

Tue. 10/24, Away - Northwest Catholic High School (Primary)-NWC JV Soccer Field / Track

Platt (JV Boys Soccer)

Thu. 10/26, Away - Platt High School-Platt Turf field

Berlin (JV Boys Soccer)

Mon. 10/30, Away - Sage Park Berlin-Auxiliary
Coaches
| Coach Title | Name | Phone | Email |
| --- | --- | --- | --- |
| Head Coach | Dave Parness | 203-215-6830 | |
| Assistant Coach | Andrew DaCorte | 203-238-2334 | |
| Assistant Coach | Chris Musco | | |